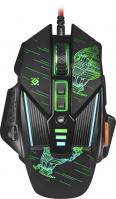 Wired gaming mouse Defender sTarx GM-390L



Technical specifications

Connection type wired
Connection interface USB
Amount of buttons 7 + scroll wheel
Sensor type optical
Resolution 1200/1600/2400/3200 dpi
Max acceleration 8 g
Color black
Cable length 1.5 ±5% m
Max tracking speed 4000
IPS speed 30 IPS
System requirements for PC Windows 2000/XP/Vista/7/8/10, Mac OS X10


Defender Game Center software


Macros editor


Keyboard buttons emulation


4 mouse resolution modes

DPI setting button allows to choose the cursor speed (800/1800/2400/3200 dpi). The chosen DPI level will be indicated with the scroll wheel backlight.


Gold-plated USB connector


2 thumb buttons


Ferrite noise filter


Different-color backlight


Molded thumb rest


Wide chrome-plated scroll-wheel


5 customizable buttons


Metal plate on the bottom


Metal feet


Weights for mouse weight adjustment


Woven cable structure


FIRE function for shooters

Special FIRE function allows to set fast single-round firing on any extra button. That increases accuracy and decreases the jitter from recoil.