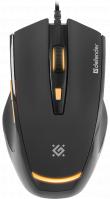 Wired gaming mouse Defender Warhead GM-1710
Technical specifications

Connection type wired
Connection interface USB
Amount of buttons 5 + scroll wheel
Sensor type optical
Resolution 1200/1500/2000/3200 dpi
Report rate 125-1000 Hz
Max acceleration 8 g
Color black
ROHS / CE Yes
Cable length 1.8 (±5%)
Max tracking speed 3600
IPS speed 30 IPS
System requirements for PC Windows 2000/XP/Vista/7/8/10, Mac OS X10

Defender Game Center software


High precision sensor


Macros editor

Built-in macros editor allows to store and edit the list of 52 successive commands with the optional cycling.


Adjustable report rate


Keyboard buttons emulation

The funciton of any keyboard button can be assigned to any mouse button.


1 power shooting button

Special shooting button decreasing jitter form recoil.


2 resolution setting buttons

DPI setting button allows to choose the cursor speed (1000/1500/2000/2500 dpi). The chosen DPI level will be indicated with the scroll wheel backlight.


2 thumb buttons

2 customizable thumb buttons allow to adjust mouse for its user's needs. Textured surface of the upper button decreases the risk of accidential «blind» hit.


Wide rubberized backlit scroll wheel of 8 mm width

Widened scroll wheel with special ribbed protector make the mouse control easier. The shape and the place of the scroll wheel are optimal for simultaneous movements of index finger from the left button to the wheel back and forth.


High durability cord

Long braided cord of 1.8 m absolutely endures 10 000 flexes and the continuous load of 10 kg.


Gold-plated USB connector

Gold-plated surface ensures better connection, smaller resistance and smaller oxidability.